Print
Invitation Cards
Cheap & Delivered
Fast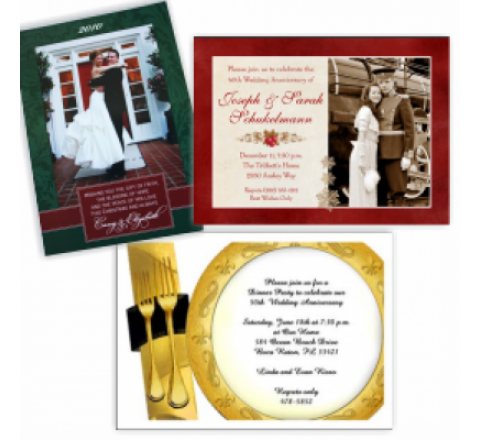 Anniversary Invitation Cards Printing

Bridal Shower Invitation Cards Printing

Party Invitation Cards Printing
92% Of Our Customers Generate Their Instant Custom Printing
Quotation By Free Quotation Engine!
At Your Service
Print
Invitation Cards
Cheap & Delivered
Fast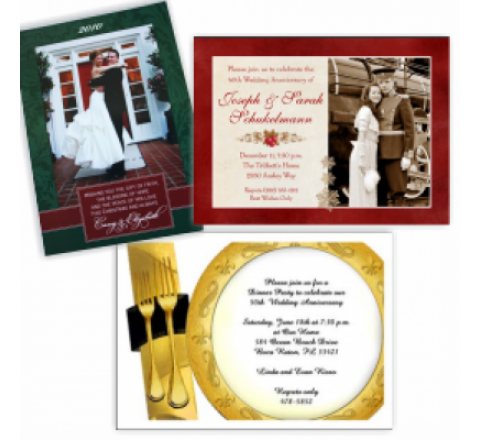 Description
What are invitation cards?
Invitation cards are simply pieces of folded cards used to invite people to various events such as weddings, parties or other large gatherings. The idea behind party invitation cards is to generate interest in whatever event they are for and also invite people in a personal and special way.
When to use invitation cards?
Their name speaks volumes. Use these brilliant cards whenever you need to let somebody know about an upcoming event. Formally inviting someone increases the number of people who actually turn up as they are reminded of it. There are many occasions where you really need them Anniversary Invitation Cards for your wedding or any anniversary, Bridal Shower Invitation Cards for you bridal shower party and off course Wedding Party Invitation Cards when you getting married.

A good thing to include in your card is a contact number so that people can get back to you on whether they're coming or not. Little details such as this can make planning a big event so much easier as you will get a better idea of the amount of food to put on, the number of seats needed and other quantitative things like that.
Why Printing Good?
Here at printing Good printing services UK we can print you the highest quality of invitations cards. You can choose from a range of sizes to suit every different price range and occasion. After that, you can customize the shape and colours before you get to work on the actual design.
We will support you all the way with this. Just look down to the bottom right and you will find a chat box. You can talk to a top professional here and they will be happy to provide you with any additional details that you require.
When you order we will contact you and work towards finalizing a design that will fit all of your needs. We can give you advice or simply produce exactly what you tell use. Our high-level machines and processes allow us to print whatever you want in outstanding quality that will really wow any greetings card recipient.
Customer Service Information
If you are looking for the printing of custom packaging boxes for your business or personal use and want some unique shapes and custom made packaging then, the packaging printed by us are made right for you.
Testimonials
Liam

Hugo

Adam

John Anderson

Jayden